PU/PIR Discontinuous Sandwich Panel Produciton Line for Wall & Roof > Detailed Line Up > Sheet Forming Line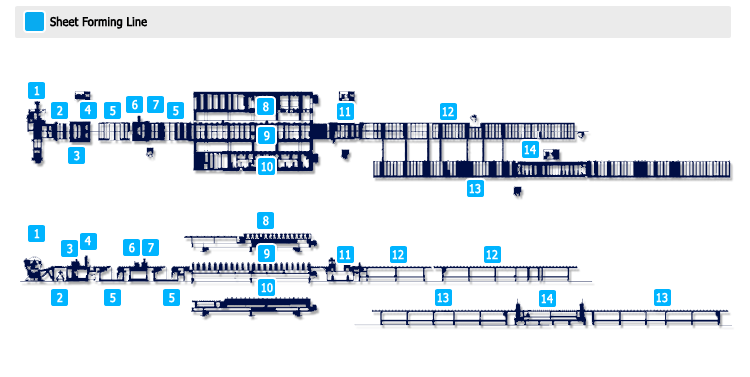 | No | Machine | Function | No | Machine | Function |
| --- | --- | --- | --- | --- | --- |
| 1 | Coil Car & Uncoiler | Uncoiling & Guiding Coil | 8 | Interlock Joint Wall/Side Bending Roll Fomer | Forming Steel Sheet into Interlock Joint Wall or Side Forming into Side Bending Panel |
| 2 | Protective Film Coater | Attaching the Protective Film on Coil Surface | 9 | Trapezoidal Roof Roll Former | Forming Steel Sheet into Trapezoidal Roof |
| 3 | Leveller | Levelling the Coil Surface | 10 | Hidden Joint Wall Roll Fomer | Forming Steel Sheet into Hidden Joint Wall |
| 4 | Pre Shearing Machine | Cutting Coil into Necessary Steel Sheet in Length | 11 | Post Cutting Flying Press | Post-Cutting Panels after Roll former for Wave-Proof Skin |
| 5 | Looper | Looping the Coil for Post Process | 12 | Transporting Conveyor | Transporting Panels |
| 6 | N.C. Feeder | Micro Feeding the Coil into the Next Process | 13 | Arranging Conveyor | Arranging the Panels for Next Bending Process |
| 7 | Notching Machine | Notching the Corner for Bending Process | 14 | Dual Bender | Front & Rear Bending for Full Side Bending Panels |
This Line is capable of producing PIR/PU Insulated Panels & Single Skin Panels as well as Construction Wall, Roof & Cold Store Refrigeration Panels.
In order to Maximize the Production Capacity, It is Necessary to Equip the Additional Automation System.
Detailed Specification can be Researched in other 2 menus such as Wall & Roof and Freezing/Refrigeration Panel Production Line.